Labour Market Integration Modules (compact)
APPLY NOW for Access Fast Track
MEET our Access Fast Track Talents (Cycles 1-3)
MEET our Access Fast Track Talents (Cycles 4-5)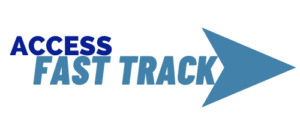 Access Fast Track is our response to the Ukrainian crisis, but is open to a wider group of talented people. It is a Labour Market Orientation to increase employability and facilitate social and economic inclusion of high-skilled job seekers with refugee and migrant background in Switzerland.
Our corporate partners (so far UBS, Johnson & Johnson, Credit Suisse and Generali) are participating as coaches and network allies to address the challenges faced by job seekers and to connect the untapped migrant and refugee talent pool with companies looking to diversify their workforce.
The bilingual (D/E) F

ast Track Access Modules are designed to support refugees and migrants in finding employment at their qualifications level, and

thus enable effective integration and use of their advanced skills in the Swiss job market.
The Access Fast Track Modules are based on the insights of the pilot of the Access Programme that ended in May 2022. The compact modules are aimed at recently arrived professionals who are starting their jobsearch in Switzerland, as well as at those looking for a job for a longer period who would like to review and improve their jobsearch strategies. They focus on the job application process and networking. Access Fast Track participants will get information on a variety of tools to assess their professional background, identify the right career opportunities and better position their talent and skills in the Swiss job market. In addition to the series of modules and active peer support, each participant will work with one dedicated Talent Coach.
APPLY NOW for Access Fast Track
Register for the Introduction Session of October 2, 2023
Migrant and/or refugee background (we particularly encourage applications by candidates coming from

locations at risk of a humanitarian disaster or from

non-EU/non-EFTA

countries)

Higher Education Degree, BA University Degree or higher

At least 3-5 years of work experience

At least B2 level German or English language skills

Status that allows working in Switzerland (Permit F-B-C-S)

Commitment to participate to all workshops and the development/ implementation of an effective job search strategy
By the end of the Access Fast Track Modules, participants will be able to optimise their job search and extend their local professional network.
Becoming a part of the Capacity community, the participants have the chance to practice their professional introduction and make new professional connections.

SPECIAL OPPORTUNITY FOR OR-NURSES
in cooperation with our partner Johnson & Johnson.
Please apply now for the OR Opportunity within ACCESS Fast Track
if you are a trained nurse interested in this opportunity
Dates for a next implementation are not yet fixed