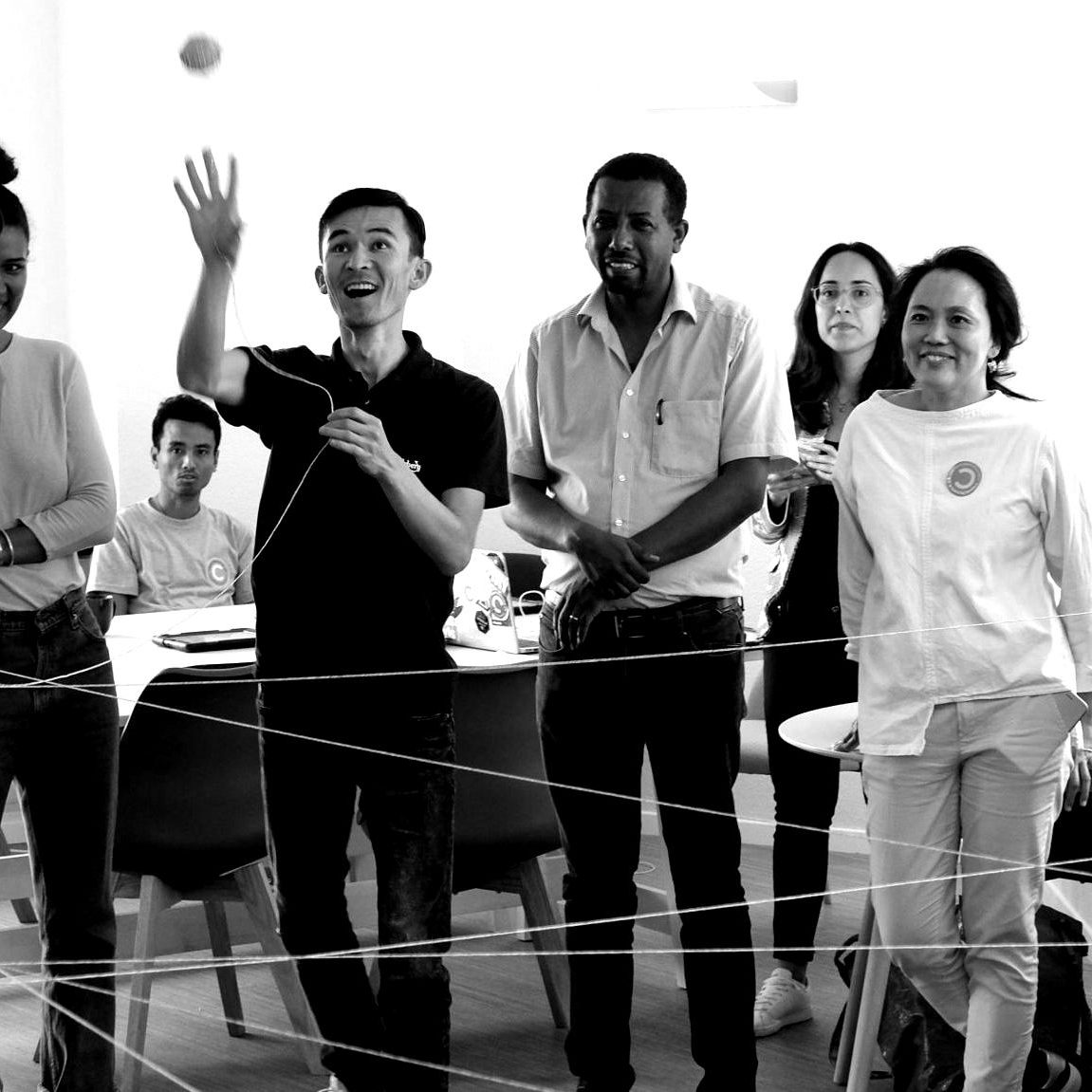 Social projects
Click on each name to learn more about the project/entrepreneur.
Maha Khalil – 2023
A platform that brings together qualified and skilled immigrant and refugee women -especially mothers-, to empower them, exchange knowledge, and share their talents with others, helping them to improve their economic situation and generate income using their potential.
Joana Ribeiro – 2022
A daycare that supports parents, with their needs and ensures the child has the best opportunities to develop their own skills surrounded by excellent professionals, in a safe and healthy environment.
Mahfuz Mohammed Ali – 2022
A tourist guideline package to make autonomous travel in Switzerland easy and cost efficient and seeking to integrate asylum seekers who speak the desired languages as employees for its activities, offering them work experience during their time in Switzerland.
Neda Amani & Amir Seifi – 2022
A software application based product as well as workshops and awareness-raising events to build a brighter future for refugee, asylum-seeking and migrant children.
Michelle Gorham Dasic – 2022
Michelle is working to advance sustainable agriculture for producers across the globe through a platform fostering economic development and stakeholder relationships.
Adedolapo Ilaboya – 2022
An online platform that offers an in-house and 24hr pickup/delivery ironing service as well other related, add-on services, empowering and connecting migrant women.
Aarfa Azimi – 2022
Sustainable economic development for Afghan women who harvest and process saffron, to help enable their independence and peaceful perspectives.
Michelle Carvajal – 2021
World unique crafts, embroidery, and textiles that embody the living history of the Andean region.
César de la Cruz – 2021
Promotion of impact investing and business model solutions to empower indigenous people in the mineral extractive sector and access to capital markets.
Haben Kflemaryam – 2021
A social project of the Eritrean Media Association on domestic violence.
Pamela Velasco – 2021
An online shop that sells unique and original items of textiles and handicrafts from vulnerable groups from Latin America.
Braveman Moyo – 2020
A project tackling social and economic issues through skateboarding, art, music, cultural diversity exchange programmes and exhibitions.
Lee Avnit – 2020
3rd World Creative A fair trade e-commerce platform that promotes and sells works of artists from across the developing world.
Maria Cristine Duhart – 2020
Support and guidance to parents on the topics of child development and parenthood, fostering a sense of community and belonging.
Nagla Fathi – 2020
A house to bring the Sudanese diaspora and local communities together.
Jehisson Santacruz – 2020
A project of artistic and social development to generate a socio-commercial dialogue between Colombia and the world.
Laurine Njanga – 2020
Campaign to inform Cameroonian families and communities concerned on how to work with children in the autism spectrum and provide resources for specific care.

Elizabeth Weiersmüller-Jatta – 2020
Sewing business and capacity training to people who can learn how to sew and eventually create a source of income in Gambia and Namibia.
Alexandra Cherali – 2019 Boost
11 Girls a humanitarian project that provides home, education and chances for the future of eleven Nepalese girls.
Mansueta (Mansy) – 2019 Boost
Mansueta Lifestyle management and concierge services offer personal assistant services, senior concierge (assisting the elderly), home management and education services.
Verica Puzderliska Greuter – 2019 Boost
Art for Hope supports marginalized women through the development, production, and sale of handicrafts.
Dahiana Parra -2019 Boost
Dahian Velasquez Demi-Couture is a brand of wedding dresses designed in Switzerland, made in Colombia.
StaYuman – 2019
Lifestyle brand aimed at fostering public awareness of social issues through contemporary art.
Verde – 2019 Boost
Fair-trade emeralds from sustainable suppliers in Colombia.
Anca Alius – 2019 Launch
ART & PLAY is a social/non-profit initiative in the form of art workshops with the purpose to re-empower asylum seekers.
Kessara Chan – 2019 Launch
The Mamas' project is a socio-cultural initiative where a team of mums cooks once a week a four-course menu from their own country.
Inaam Al Haristany – 2019 Launch
Dar Al Farah a local association that through a school, various activities, events and courses, offers insight into the Arabic-Islamic culture and language.
Natalia Sierra – 2019 Launch
POWER TO THE PEOPLE | Tours a non-profit association dedicated to encouraging and highlighting the creative and intellectual potential of refugees.
Ana Volfzon – 2019 Launch
An online platform that sells products crafted in Brazilian unprivileged communities.
Teferi Kassa – 2018
Skills training in metalwork and upcycling as an alternative for better socio-economic integration of young African refugees in Switzerland.
Mohammed Khairi – 2018
VoCHabular is an organization producing material that people can use to teach themselves German and Swiss German. Their goal is to help connect those who are new in Switzerland.
Maria Teresita Ordaz – 2018
Tete Jewelry a percentage of their sales goes directly to support one local Venezuelan NGO working towards gender equality.
Akim Tejan Cole – 2018
Blesseddressed Fashion creates clothes that connect and inspire people and continents, clothes that respect the environment and make a positive contribution to the fabric of our society.
Ingrid Gazquez – 2018
Be X-perienced a non-profit that provides volunteering experiences which encourage social participation on a global scale.
Andrea Luchhau – 2018
Personalised sustainable jewellery and repair service with a social project: by processing precious metals and natural stones for Andrea, Colombian women receive an educational opportunity and a fair income.
Das Wohnzimmer – 2018
A cafe with fresh and locally sourced delicious food and desserts with a particular focus on healthy foods and snacks that are suitable for adults and children.
Beatrice Verzier – 2018
Beatrice has created a team of eight friends with diverse backgrounds, political views and education with the common vision of higher voter participation of fellow young citizens.
Architecture for Refugees – 2017
Architecture for Refugees (AfR) is a group of architects who come together to build a caring society with no cultural barriers.
Zouher Adwan – 2017
WeAreTheSouk an online, socially responsible platform that celebrates craftsmanship through contemporary design reviving Syrian and Middle Eastern artistic heritages.
Kebede Dache Dalacho – 2017
Sustainable tourism in Ethiopia and a school in southern Ethiopia for children and where adults can learn about sustainable agriculture and living.
Adiam Weldagabriel – 2017
Youth project based in Aarau, to provide services for young migrants (especially Eritreans) to help them develop their skills, to provide social support, entertainment and to provide health education services.
Haile Kassa – 2017
Fire Hub a tool-box of techniques that helps to build diverse communities.
Natalie Gewerc – 2017
Fashion Flip a platform with the right information and tools to facilitate a change in consumption behaviour.
Tashi Lama – 2017
Thank God it's Fair Wear (TGIFW) a fair-fashion label that brings together Swiss and Nepalese design with Nepalese business development creating jobs for women in Nepal.
Okbaab Tesfamariam – 2016
Tours of Zurich that show the city through the eyes of a refugee. In 2017 he started collaborating with Architecture for Refugees.
Simona Vesic – 2016
Circular economy model to create sustainable care for the ageing population in her homeland of Serbia.
Mohammad Nweylati – 2016
Anti-café in Zurich, a space for meeting friends, doing work and exchanging experiences.
Chantico Ledesma – 2016
Expo Trans Kultur Verein a platform for creativity, dialogue and collaboration between newcomers and locals.
Omar Farook – 2016
Hierathlonlyness helping older adults to deal with the loneliness of living in care homes, of coping when their family is far away and helping people to better interact with the elderly.