2020 | Capacity Mentions, News & Upcoming Events
ONLINE INTERACTIVE WORKSHOP


Volunteering with a purpose


Switzerland, 6 May 2020 | 14:00 – 16:00
In partnership with the Fachstelle Integration Kanton Zurich Capacity launched ENGAGE, an official volunteering programme for migrant and local communities to find meaningful volunteering opportunities in the field of migration.
As Capacity is committed to the socio-economic inclusion of refugees and migrants in Switzerland, we are offering an exclusive online interactive workshop which will take place via Zoom in order to offer orientation and best practices for volunteering.
OBJECTIVES & AGENDA
This event allows newcomers:
to understand their motivation behind volunteering
to know how to leverage volunteering opportunities to find a new purpose/career path
to know how to engage in local activities around migration to expand their social network
to get to know the do's and don'ts of volunteering based on local practices
to understand which organisations are working on the field of migration
Q&A


Further information about how to join HERE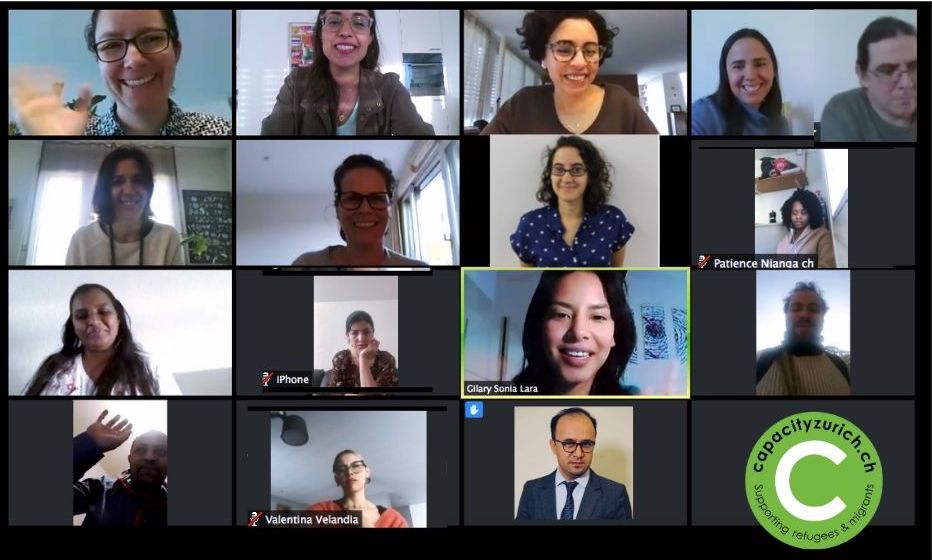 ---
[/vc_column_text]
Generali | Alumn Teferi Kassa featured by Generali | Migrapreneurship stories
Switzerland, 17 April 2020
Fearing for your life because you repair and distribute wheelchairs? Surely that can't happen? But it can. It's Teferi Kassa's story. Since fleeing his native Ethiopia in 2016, he and his family have been living in Baden & awaiting the outcome of his asylum application. The desire to create a secure future for himself & others is what drives Teferi. That's why he has set up an association with the help of our partner Generali. You can read his full story online: https://lnkd.in/dHA5N9A 

---
OECD High-Level Policy Forum
Building a Whole-of-Society Approach to Emerging Migration and Integration Challenges 
Paris, 16 January 2020

Capacity participated along with the Swiss delegation of the State Secretariat for Migration (SEM) in the OECD High-level Policy Forum on Migration and Integration and a formal ministerial dinner.
We were proud to represent Switzerland and showcase the talent of and work with refugees and migrants, as an example of local good practices.
---

2019 | Capacity Mentions, News & Past Events
Innovator by The Red Bulletin | Capacity's work was featured in RedBull Innovation Bulletin.
See the whole article (in German) here.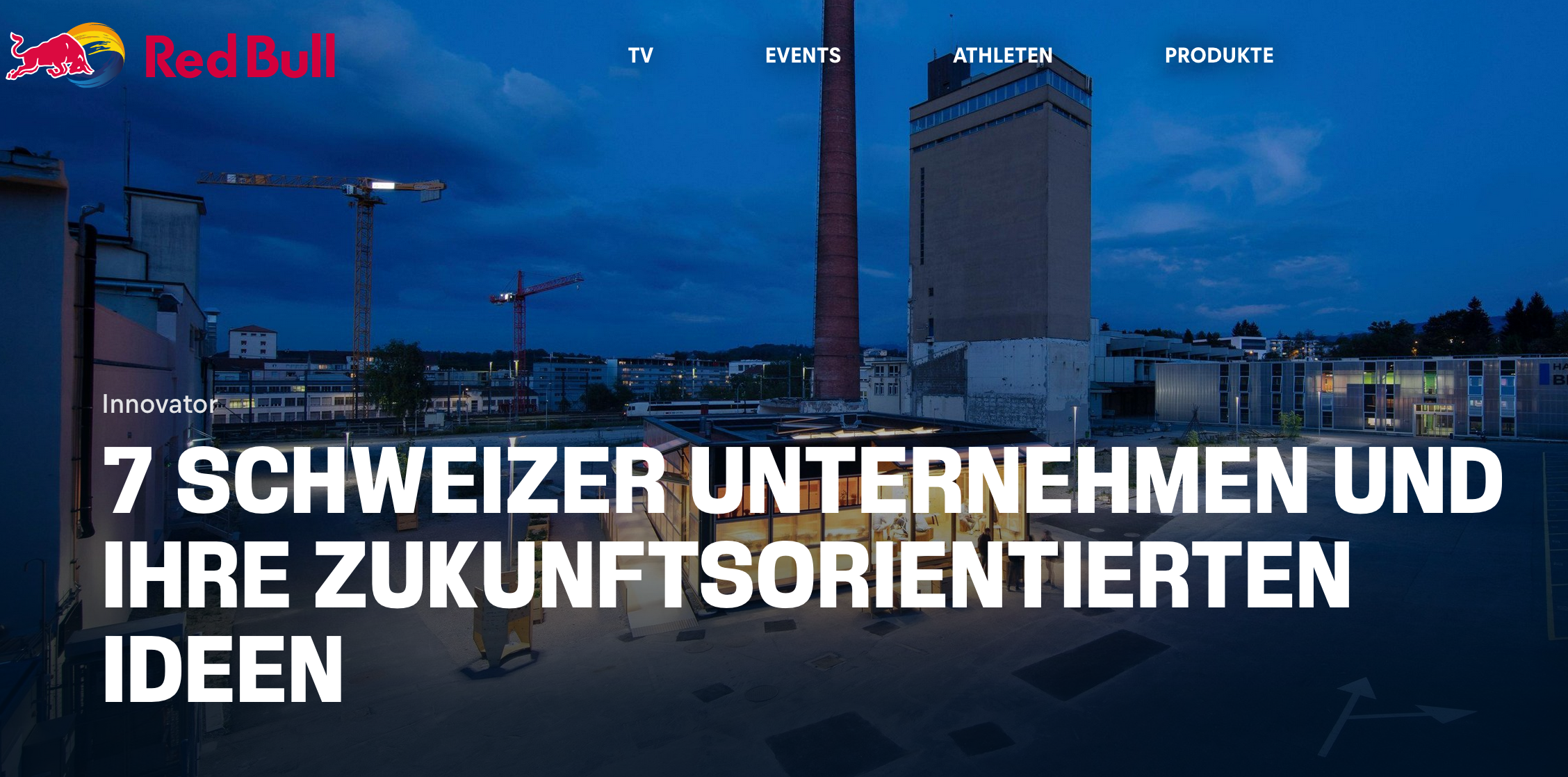 ---
2019 | Capacity Mentions, News & Past Events
[/vc_row_inner]
Storytelling for Inclusion | Our last public event was on October the 14th at the Kraftwerk where we are showcasing cross-generational experiences of migration.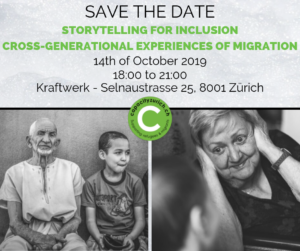 ---
SwissInfo| Learn about the first-hand refugee experiences of our co-founder Ana Maria Angarita and two of our determined entrepreneurs Mohamad Aldahouk and Natalia Sierra, as refugees. Access the interview HERE.


---

---
CNN Money Switzerland | From Welfare to Workforce – Capacity's co-founder, Valentina Velandia, represented our community of refugee and migrant entrepreneurs during 2019's #WorldRefugeeDay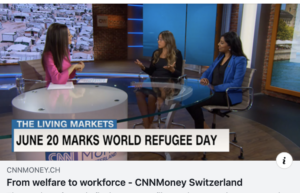 CNN | The Living Markets – Don't Forget Women Refugees
---
PopUp Fair and World Refugee Day 2019 | Our co-founder, Ana Maria Angarita, tells her story as an asylum seeker
---
Nau.ch | Flüchtlinge und Migranten stellen ihre Start-Up-Ideen vor 
---
StartupTicker.ch | Incubation program tailored for entrepreneurs with refugee and migrant backgrounds by Ritah Ayebare Nyakato
---
Wicki Partners | Wicki Partners unterstützt Capacity Zurich
---
University of Zurich | Continuing Education Programs
---
European Union  and Edison Case Study | Capacity Mentoring Programme 
---
Euforia | Engagement Opportunities
---
2018 | Capacity Mentions and News 
UNCTAD – United Nations Conference on Trade and Development | Policy Guide on Entrepreneurship for Migrants and Refugees
---
eBay Foundation | eBay Foundation Announces the Winners of the Global Give
---
Bilanz | Digital Shapers on the DoGooder Category
---
Le Temps | Bienfaiteurs
---
UNCTAD – United Nations Conference on Trade and Development  | Entrepreneurship offers a key to inclusion for migrants and refugees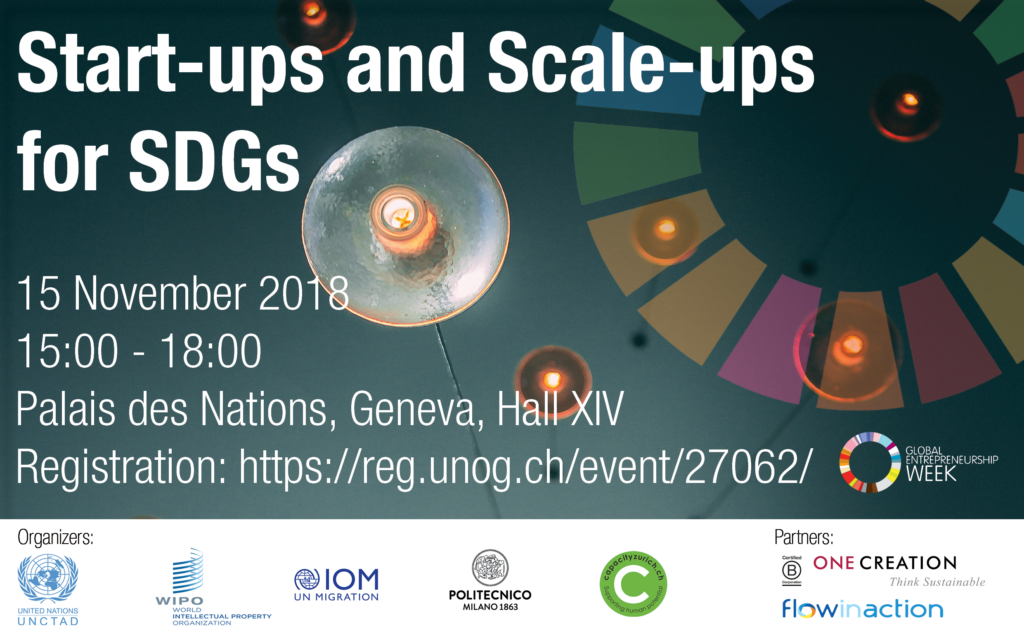 ---
Giving Women | Meet Capacity: "How can you empower refugee and migrant entrepreneurs in Switzerland?"
---
TELL Africans | Speaking With The Representatives From Capacity Zurich, An NGO That Help Refugees & Migrants To Start Their Own Business
---
Collaboratio Helvetica | Portraits of the Mind 
---
The University of St. Gallen (EVOLVE) | Entrepreneurship as an alternative form of income and purpose for refugees and migrants in Switzerland
---
ChangeHackers | On being an accidental entrepreneur
---
Room To Read | The power of learning
---
Intercultural Education Hong Kong | International conference on social innovation and volunteerism
---
2017 | Capacity Mentions and News 
Pepshot | #BeBoldForChange – How Emily Elsner Helps People Reach Their Potential
---
Limmattaler Zeitung | Wie eine Zürcher Organisation Flüchtlingen hilft, auf dem Arbeitsmarkt Fuss zu fassen
---
Ron Orp | Capacity Zurich| Entrepreneurship support for people with migrant or refugee experience
---
GreenBuzz | How can companies work with persons with refugee or migrant background?
---
Migros Kulturprozent | Caring Communities 
---
Tsri | 10 Zürcher Projekte, bei denen du dich engagieren kannst
---
2016 | Capacity Mentions and News 
Impact Hub Zurich | Capacity Zurich | Zurich's first Entrepreneurship Mentoring Programme for Refugees and Migrants
---
Ecloo | Beyond Charity: Refugees, Migrants and Entrepreneurship
---
Cablex | We support Capacity Initiative
---
20 Minuten | Zürcher Start-up
Check out our newsletters
Thanks a lot for everything! I cannot explain you how excited I am that I got to know the Capacity Team. The kindness, support and all the encouragement you give means a lot to me and to all of us. It has been a life changing experience!

Kebede

Mentee 2017
This programme has been wonderful. Special thanks to the presenters, mentors and mentees ?

Zouher

Mentee 2017
Thank you, again dear Capacity Team, for the wonderful workshops and for presenting us with such an amazing platform to learn.

Tashi

Mentee 2017
I have never worked in an environment that represents such a safe space for all, irrespective of nationality, ethnicity, gender, sex, sexual orientation, socio-economic or migratory status. Capacity is a space for everybody to shine."

Valentina

Community Manager
Concrete knowledge transfer; wonderful team

Isabel

Architecture for Refugees
It was really wonderful and highly valuable! Thanks a million, to Capacity team, Mentors, Presenters and Startups!

Vaida

Mentee 2017