What we do
Capacity seeks to build a society that is open and supportive of everyone, regardless of their background.
We work at the intersection of entrepreneurship, innovation and social inclusion. Therefore, we run a talent and startup incubator for people with refugee or migrant background who would like to launch a business or socio-cultural initiative in Switzerland.
Each year, we offer comprehensive programmes which include numerous personal and professional development tools for our participants to find opportunities that are as big as their dreams.
In 2019, Capacity is offering three main programmes:
Capacity Launch | All you need is to have one idea that you are committed to developing! Capacity Launch is a start-up ideation programme to move from having an idea to launching it. The programme ends with a public Pop-Up Fair as a graduation celebration.
Capacity Boost | Start-up incubator programme to move from market entry to sustainable business (for existing start-ups/projects). We will finalise the programme with a public Pitch Party closing ceremony, which is attended by more than 150 people each year.
Storytelling for inclusion | This module is a training and coaching module that uses the impact of personal stories to change individual and societal attitudes towards migration. It also offers participants the opportunity to use their experiences with migration, as well as their skills as newcomers in their new society, to improve their business and project management, and to strengthen their self-confidence and engagement in local communities.
---
---
A snapshot of our partnership with Generali through The Human Safety Net

---
Capacity in CNN News – The Living Markets: 
---
This is a speech from our co-founder Ana Maria Angarita.
Her inspiring story and words put in evidence the resilience of many refugees and asylum seekers and give context to the work we do at Capacity. It reminds our community why our mission is so important!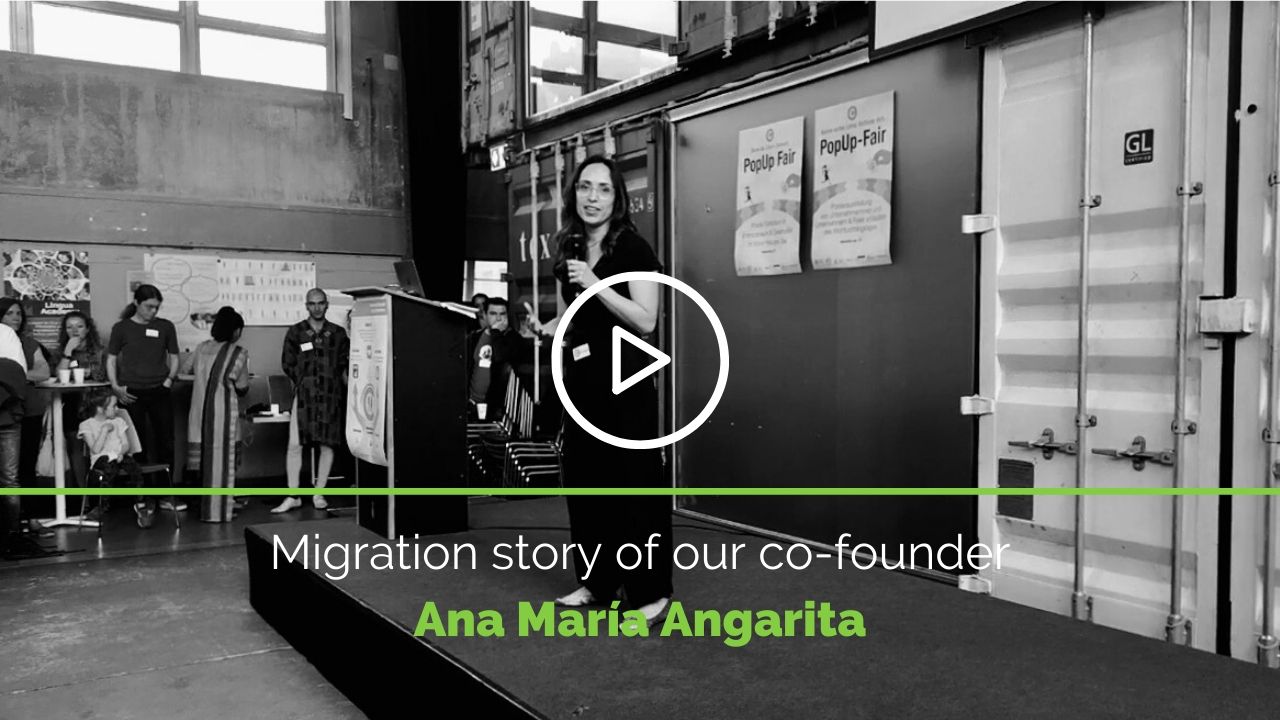 Workshops & Training
Interactive Workshops guided through the Lean Start-up and Design Thinking Methods on topics such as entrepreneurship, business development, storytelling, community building, intercultural communication, integration and diversity
Mentoring & Coaching Program | Corporate Volunteering
Experienced local professionals support our participants to launch their business idea or social/cultural initiative. Our programme is a 2-way engagement in business and project co-creation.
Contact us
if you want to become a corporate partner and offer our popular corporate volunteering package to your employees!
Networking
Networking opportunities for individuals and companies who are passionate about social justice and radical inclusion
Featured 2020 Participants
These bright professionals are on track to achieve their dreams. Get to know them closer!
OUR FRIENDS & COLLABORATORS
Thanks a lot for everything! I cannot explain you how excited I am that I got to know the Capacity Team. The kindness, support and all the encouragement you give means a lot to me and to all of us. It has been a life changing experience!

Kebede

Mentee 2017
This programme has been wonderful. Special thanks to the presenters, mentors and mentees ?

Zouher

Mentee 2017
Thank you, again dear Capacity Team, for the wonderful workshops and for presenting us with such an amazing platform to learn.

Tashi

Mentee 2017
I have never worked in an environment that represents such a safe space for all, irrespective of nationality, ethnicity, gender, sex, sexual orientation, socio-economic or migratory status. Capacity is a space for everybody to shine."

Valentina

Community Manager
Concrete knowledge transfer; wonderful team

Isabel

Architecture for Refugees
It was really wonderful and highly valuable! Thanks a million, to Capacity team, Mentors, Presenters and Startups!

Vaida

Mentee 2017